'Over The Line' Summer Slam Tournament Long Beach 2017 Other · Any All Skill Levels
MonTueWedThuFriSatSun between 10:00am and 6:00pm
Team Fees

Regular

$30.00

per player
Free Agent Fees

Regular

$30.00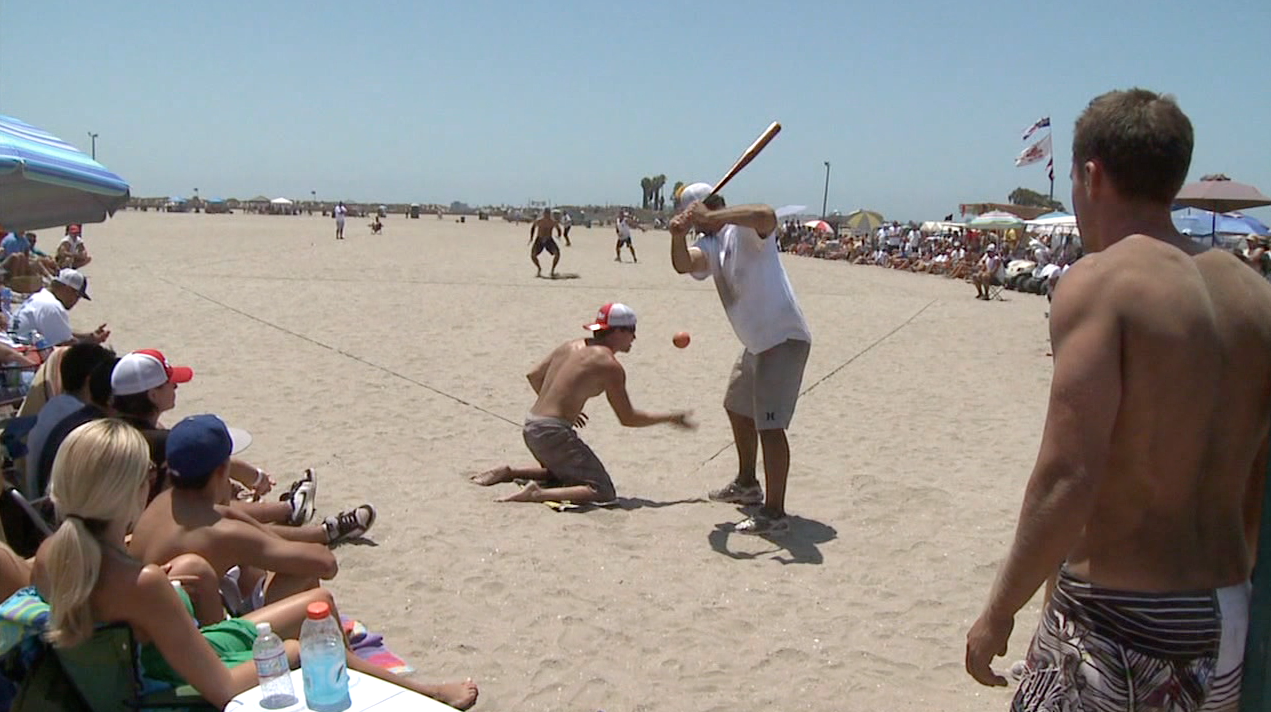 Long Beach Summer Slam 'Over The Line' Tournament
Hosted by Volitude Sports

Help us kick off Summer with Long Beach's 1st Annual 'Over The Line' tournament located at Granada Beach in Belmont Shore!

- Date: Saturday, May 20th, 2017 - 10:00am until 6:00pm
- Location: 1 Granada Ave, Long Beach, CA 90803

Tournament Details:

Divisions include: Men's Open, Women's Open, and Coed Open

3 to 4 Players

allowed per team roster (see below for substitute regulations)

Double Elimination

for all teams in each division
All games are

Four Innings

long (see rules for extra innings below)

Official OTL Bats

Only (see regulations below)
Gloves allowed in Women's Open and Coed Open divisions only

Participants must be age 21 and up
Prizes for 1st Place in Each Division
Limited supply of approved bats will be available for use

Team Entry: $30 per player or $100 per team online before May 12th
- See Summer Slam 2017 Tournament Rules below


Meal & Refreshments provided by Alfredo's Beach Club
- Food/Beverage Tickets for Alfredo's Beach Club will be available on site, and as an additional purchase during online registration
- Each Food/Beverage Ticket is a separate purchase from player registration, and is good for either 1 Meal OR 1 Beverage
- Access to Private Summer Slam Beach Party during tournament
- Live Music with DJ Spinning Tunes
- After Party @ Sponsor Bar Panama Joe's on 2nd St. starting at 6:00PM

Parking
- Free Street Parking while available
- Parking Lot with available spaces & meters located at the corner of Granada Ave & Ocean Blvd

Approved Bats can be purchased from:
Phoenix Bats: https://www.phoenixbats.com
Superior A Bats: http://www.promaplebats.com

**Now Accepting Sponsors**
Email- jamin@volitudesports.com

Special Notes: 'Over The Line' Tournament participants will NOT be able to also participate in the Summer Slam Cornhole Tournament. Both events will be happening at the same time and games would overlap. Also, no alcohol will be permitted outside of the gated area. Summer Slam is a public event, however, it is not appropriate /safe for children due to crowds, bat & ball related games, and language.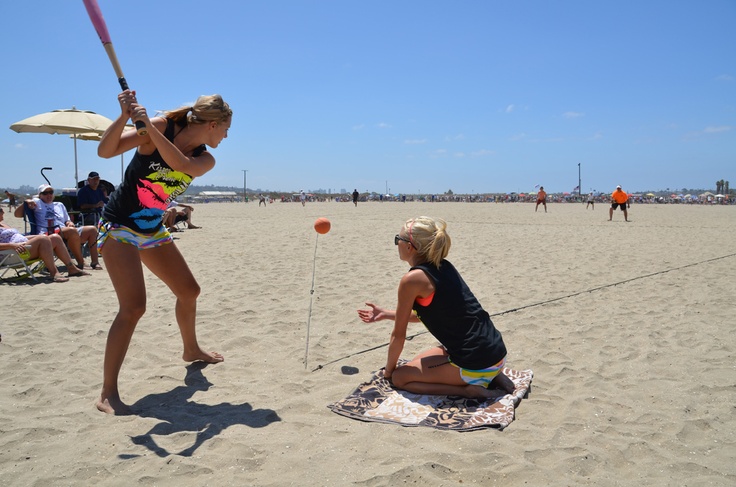 Long Beach 2017 Summer Slam Tournament Rules

1. PLAYERS - Three to four players per team roster. Substitutes are allowed if a player has not played for any other team. Substituted player may not re-enter the game. He/she may play in subsequent games. All players must participate in at least 1 of first 3 games to be eligeable for championship.

2. AT-BAT POSITIONS - Bat from home plate. Teammate pitches from anywhere in front of "The Line" or its extensions. One foot of batter must remain behind home plate at all times. Only 3 pitches are allowed.
3. FIELDING POSITIONS - Fielders may play anywhere past "The Line" or its extensions.
4. HITS
A) Ball hit into fair territory on the fly without being caught by fielders.
B) Any ball touched and dropped by fielders (even a foul ball).
C) Fielder crossing "The Line" or its extensions when attempting to catch the ball (see Rule 12).
5. HOME RUNS - Any ball hit PAST last player in fair territory, on the fly without the fielder touching it. (The ball only has to go past the last fielder, not necessarily over his/her head.)
6. OUTS
A) Two foul balls (see Rule 7).
B) One strike
C) Fly balls caught by fielders.
D) Ball hitting "The Line" or lines around the triangle "pie area", or landing inside the "pie area".
E) Ball touched or dropped by batter or pitcher (see Rule 13A). Foul tips that hit the batter
and land in foul territory are foul.
F) Batting out of turn.
G) Pitcher crossing "The Line" after hit ball (see Rule 12).
H.) Using is disqualified bat
I.) Not having one foot behind the front of home plate when batting (see Rule 2)

J.) Each team-at-bat gets three outs before ending their inning.
7. FOULS
A) Any ball landing outside the "Pie" area, or "Fair" areas on the fly, or hitting the foul line
B) Any taken pitch.
C) Any false pitch or "Balk".
8. SCORING
A) Three hits in an inning scores one run. Each additional hit in the same inning scores one more run. Home runs "Clear the Bases".
B) Intentional throwing of the bat is a three-run penalty (Official's decision).
9. LENGTH OF GAME
A) Games will be four innings. The tournament director reserves the right to decrease the number of innings played to facilitate the completion of tournament play in a timely manner
B) If tied at the end of the four innings, play an additional inning to break the tie. If still tied, play one more.
C) If still tied after two additional innings, the team with the most hits is the winner. If a tie exists in hits, play additional innings until the tie is broken, either by hits or by runs. Runs take preference over hits in this situation. If at the end of any inning a team has an 11 run lead, the game is over.
10. UMPIRING/ SCORE KEEPING
A) Winning team (all three members) will be the officials for the next game on the same field. Captain of the winning team will be responsible for keeping track of the game ball.
B) Start the games within five minutes after completion of previous game. Any team not ready to play will forfeit; any exceptions will be at the discretion of the Tournament Director.
C) "One" of the "Three/Four" players on the winning team shall turn in the score card to the tournament director in a timely fashion, while the other "Two/Three" will start keeping score for the next game.
11. EQUIPMENT
A) No gloves to be used for fielding except in women's and coed divisions. Taping of hands and fingers is allowed if no padding is used.
B) Golf/Baseball/Softball gloves may be used for batting.
C) Only Wooden Official Softball Bats, maximum 2-1/4" in diameter are allowed, or Wooden Official Little League Bats, maximum 2-1/4" in diameter are allowed. Furnish your own bats. No baseball, oversized, or painted wooden bats allowed. Penalties for bat infractions shall be at the discretion of the Tournament Director.
D) Official OTL balls will be used. Balls will be furnished by the Tournament Director.
12. CROSSING OVER "THE LINE"
A) At no time may players cross from one side of the "Line" or its extensions, to the other when catching or attempting to catch a hit ball.
B) To avoid penalty, you must make a definite stop before crossing the "Line". If you catch the ball and your momentum carries you into or across the "Line", it is a penalty. (See Rules 4C and 6G.)
13. GENERAL
A) A ball caught on the fly by either the batter or pitcher counts as "No Pitch".
B) You must have a full team (three or four players) to start a game.
C) No warming up on playing fields. Games begin immediately.
D) Decisions of the Tournament Director and/or Rules Committee are final.