At Capacity
Men's Turf Soccer Tournament - F5WC Copa USA 5v5 Garden Grove Qualifier Soccer · Male Advanced
Sold Out
MonTueWedThuFriSatSun between 12:00pm and 5:00pm
Team Fees

Regular

35.0

per player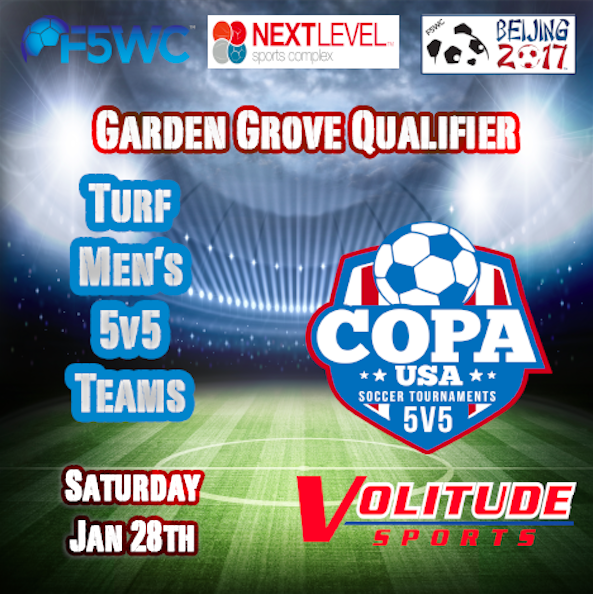 2017 GARDEN GROVE QUALIFIER TOURNAMENT
Adult 5v5 Men's Turf Soccer Tournament
1 Day Event | Saturday Jan 28th 12:00pm-5:00pm
Next Level Sports Complex (12821 Knott St., Garden Grove CA 92841)

Local Qualifier for the COPA USA 5V5 NATIONAL CHAMPIONS TOURNAMENT
to be held March 10-12, 2017

Winning team is gauranteed entry in the US National COPA USA 5V5 tournament
Entry fee for the local champions into the national playoffs is $395
Site of COPA USA National Championship will be at the new state of the art Goals Soccer Center in Pomona, CA

F5WC Copa USA 5v5 Garden Grove Qualifier hosted by Volitude Sports
- $250 per team ($35 per player) to participate in

Garden Grove Qualifier



- All Teams MUST be fully Registered Online by Tuesday, January 24th to Assure a Spot
- Random Draw Pool Play Format (Guaranteed at least 3 games)
- Each Game will consist of (2) 12 minute halves (a tie at end of regulation goes directly to penalty kick shootout)
- Maximum of 12 Teams in Draw
- Minimum of 7 players per Team Roster

- Adult Men's 16+ Age Restriction
- $1,000 Cash Prize for Winning Team
- Winning team is also garanteed entry to the US National Copa USA 5v5 Tournament


Since its inception, the F5WC has grown at an unparralleled rate with over 50 countries applying to be National Organising Committees (LOC). COPA USA 5V5 is the National LOC for the USA. The Champions of these local tournaments will have gauranteed entry into the US National COPA USA 5v5 championship tournament. Winners in the Adult division at the National Championship will receive a prize of $5,000 and free entry with an all expenses paid trip, for seven, to the World Cup Championship in Beijing, China. Second place winners will receive a prize of $1,500 and third place winners will win $1,000.

* Any player who is getting paid to play or has a contract at the time of qualifiers or during the World Finals is ineligible to play. Teams will be disqualified and forfeit all games.
* All entered players on teams with the possibility of advancing to the World Cup must be legally able to obtain a US passport.
* Players on teams may NOT be currently paid or under contract to play for pay during any of the tournaments.