At Capacity
Fall 4v4 Coed Beach Volleyball League in Long Beach - SATURDAY MORNINGS Volleyball · Co-Ed Intermediate
Sold Out
MonTueWedThuFri
Sat
Sun
between 9:00am and 12:00pm
4v4 Coed - Minimum 5 players per team - at least 2 female and 3 male players
Team Fees

Regular

75.0

per player

Late

80.0

per player
Free Agent Fees

Regular

75.0

Late

80.0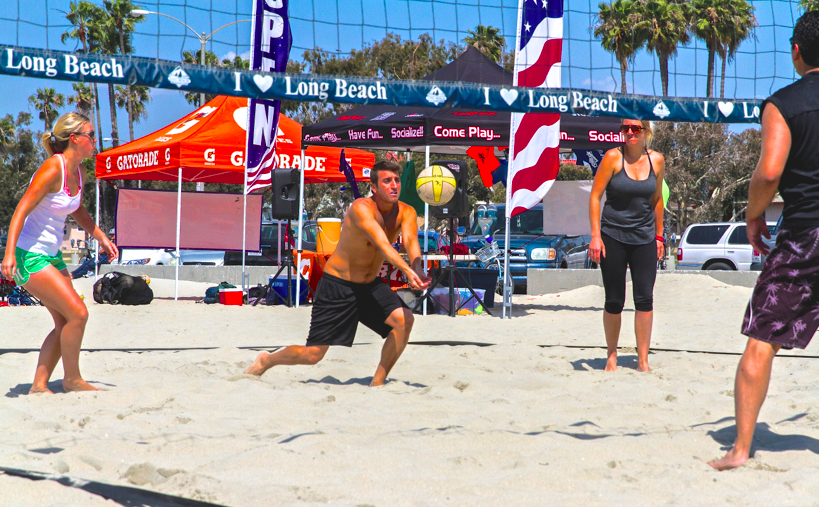 Adult Coed Beach Volleyball League in Belmont Shore
2 Separate Divisions - Beg / Int Level Play
10am-12pm Saturday Mornings

The Fall 2015 Season begins Saturday, September 12th!

• Free Training Clinics 9am-10am Saturday Mornings
• Advanced Coaching Sessions available for schedule
• 8 Weeks of Games including Playoffs
• Games are played Saturday Mornings (10am- 12pm) on the sand in Belmont Shore
• 4v4 Adult Coed (3-4 players on the court at a time - at least 1 female player)
• Sign up as an Individual (Free Agent) or a Team (min 5 players/team)
• 2 Separate Divisions to Match Talent Levels (Beg/Int) and (Int/Adv)
• Dri-Fit League Shirt
• Side contests, Prizes, Giveaways
• New Friends, and Much More!
• Registration Fee: $75 per player before Sept 1st

Our Leagues Enjoy:

• DJ Sound System at Fields!
• Snacks and Drinks Weekly
• Private Parties at Alfredo's
• Sponsor Bar Specials After Games
• Multi-Sport Vacation Trips
• League Social Events & Adventures
• Professional Photography & Video

Teams play every Saturday Morning 10am-12pm on the sand @ Granada Ave & Ocean Blvd in Belmont Shore. This Season we have some Excellent Sponsors on board to bring even more Fun & Excitement to the Sand!