At Capacity
Summer 5v5 Coed Beach Soccer in Long Beach - SUNDAY MORNINGS Soccer · Co-Ed All Skill Levels
Sold Out
MonTueWedThuFriSat
Sun
3 Divisions for All Skill Levels! Social (Beg), Premier (Int), and Elite (Adv) Divisions
Team Fees

Regular

79.0

per player
Free Agent Fees

Regular

50.0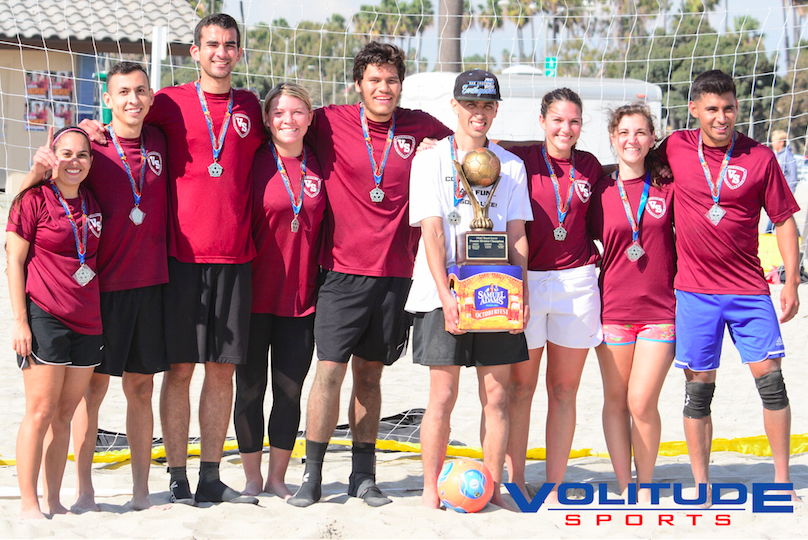 The Summer 2016 Beach Soccer Season Begins Sunday, June 5th!

We play 5v5 (3 male & 2 female) Coed Soccer On The Sand. Standard Coed Beach Soccer rules apply with the addition of a 'gender rule' in our Social Division ... A female player Must get at least 1 touch of the ball on the offensive side of the field before a shot can be taken! This is to insure everyone is safe, involved & having FUN!

• Games are played Sunday Mornings (9:00am-1:00pm) in Belmont Shore
• 5v5 Casual Coed Play for All Levels (3 male & 2 female on the field)
• Individuals (Free Agents), Small Groups, and Teams (min 8/Team) Welcome!
• 8 Weeks of Games including Playoffs
• 3 Separate Divisions - Social (beginner), Premier (intermediate) & Elite (advanced)
• Team Dri-Fit Shirts Included
• Side contests, Prizes, Givaways
• New Friends, and Much More!

Our Leagues Enjoy:
• DJ Sound System at Fields!
• Snacks and Drinks Weekly
• Private Parties at Alfredo's
• Sponsor Bar Specials After Games
• Multi-Sport Vacation Trips
• League Social Events & Adventures
• Professional Photography & Video

Teams play every Sunday Morning between 9:00am-1:00pm on the sand @ Granada Ave & Ocean Blvd in Belmont Shore. Captains play FREE in VSAC Beach Soccer. Recruit a team of at least 8 players and we've got you covered! With 22 Teams already on board, and multiple divisions, our commitment is to being organized and open-minded for you, and growing on a seasonal basis!

League SOCIALS at our sponsor bar Panama Joe's on 2nd St. after games!