At Capacity
Spring 5v5 Coed Beach Soccer in Long Beach - SUNDAY MORNINGS Soccer · Co-Ed Intermediate
Sold Out
MonTueWedThuFriSat
Sun
between 9:00am and 1:00pm
3 Divisions for All Skill Levels! Social (Beg), Premier (Int), and Elite (Adv) Divisions
Team Fees

Regular

70.0

per player + 4.86 Processing Fee

Late

75.0

per player + 4.86 Processing Fee
Free Agent Fees

Regular

70.0

+ 4.86 Processing Fee

Late

75.0

+ 4.86 Processing Fee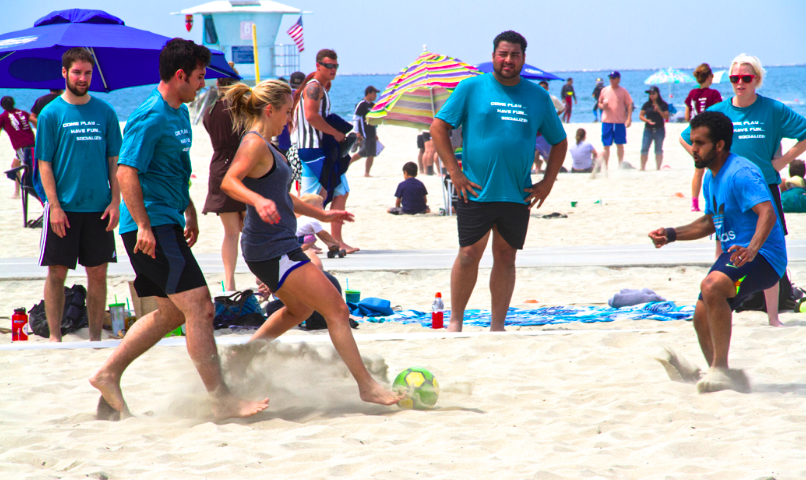 The Spring 2014 Beach Soccer Season Begins Sunday, February 8th!

We play 5v5 (3 male & 2 female) Coed Soccer On The Sand. Standard Coed Beach Soccer rules apply with the addition of our 'gender rule'... A female player Must get at least 1 touch of the ball on the offensive side of the field before a shot can be taken! This is to insure everyone is safe, involved & having FUN!

• Games are played Sunday Mornings (9:00am-1:00pm) in Belmont Shore
• 5v5 Casual Coed Play for All Levels (3 male & 2 female on the field)
• Individuals (Free Agents), Small Groups, and Teams (min 8/Team) Welcome!
• 8 Week Season + 1 Playoff Week
• 3 Separate Divisions - Social (beginner), Premier (intermediate) & Elite (advanced)
• Team Dri-Fit T-shirt
• Side contests, Prizes, Givaways
• New Friends, and Much More!
• Registration Fee: $70+ processing fee online or $75 if choosing to pay at beach

Our Leagues Enjoy:
• DJ Sound System at Fields!
• Snacks and Drinks Weekly
• Private Parties at Alfredo's
• Sponsor Bar Specials After Games
• Multi-Sport Vacation Trips
• League Social Events & Adventures
• Professional Photography & Video

Teams play every Sunday Morning between 9:00am-1:00pm on the sand @ Granada Ave & Ocean Blvd in Belmont Shore. Captains Always play FREE in VSAC Beach Soccer. Recruit a team of at least 8 players and we've got you covered! With 20 Teams already on board, and 3 separate divisions, our commitment is to being organized and open-minded for you, and growing on a seasonal basis!

League SOCIALS at our sponsor bar Panama Joe's on 2nd St. after games!