At Capacity
Spring 5v5 Coed Beach Soccer in Long Beach Soccer · Co-Ed Intermediate
Sold Out
MonTueWedThuFriSat
Sun
between 11:00am and 1:00pm
5v5 Coed Beach Soccer - Social All Skill Levels
Team Fees

Regular

45.0

per player + 3.98 Processing Fee
Free Agent Fees

Regular

50.0

+ 3.98 Processing Fee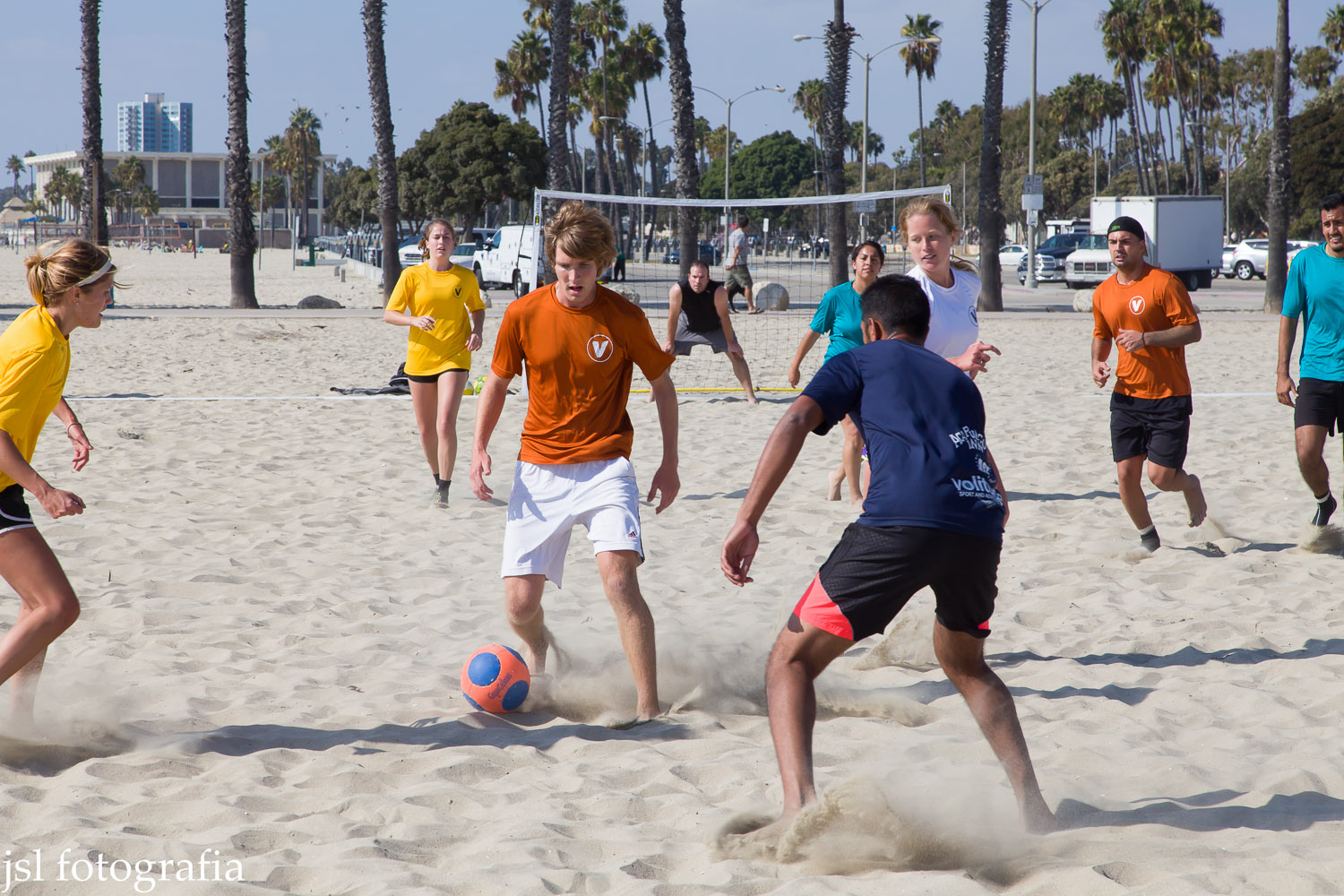 The 2014 Spring Beach Soccer Season Begins Sunday, February 9th!

We play 5v5 (3 male & 2 female) Coed Soccer On The Sand. Standard Coed Beach Soccer rules apply with the addition of our 'gender rule'... A female player Must get at least 1 touch of the ball after each change of possession before a shot can be taken! This is to insure everyone is safe, involved & having FUN!

New Rule for 2014 (pending captain vote): A ball is LIVE with 1 female touch after each change of possession, making it possible to score from anywhere on the field! Shots from out of bounds, if scored, will count if the ball is already LIVE. Throw-Ins (and kick-ins) by a female player would also result in a LIVE ball.

• Games are played Sunday Mornings (11am-1pm) in Belmont Shore
• 5v5 Casual Coed Play for All Levels (3 male & 2 female on the field)
• Sign up as an Individual (Free Agent) or a Team (min 8/Team)
• 8 Week Season + 1 Playoff Week
• 2 Separate Divisions - Premier (advanced) & Championship (beginner/intermediate)
• Team Dri-Fit T-shirt
• Side contests, Prizes, Givaways
• New Friends, and Much More!
• Registration Fee: $65+ processing fee online or $70 if chossing to pay Cash

Our Leagues Enjoy:
• DJ Sound System at Fields!
• Snacks and Drinks Weekly
• Private Parties at Alfredo's
• Sponsor Bar Specials After Games
• Multi-Sport Vacation Trips
• League Social Events & Adventures
• Professional Photography & Video

Teams play every Sunday Morning between 11am-1pm on the sand @ Granada Ave & Ocean Blvd in Belmont Shore. Captains Always play FREE in VSAC Beach Soccer. Recruit a team of at least 8 players and we've got you covered! With 14 Teams already on board, and 2 separate divisions, our commitment is to being organized and open-minded for you, and growing on a seasonal basis!

League SOCIALS at our sponsor bar 'Acapulco Inn' on 2nd St. after games!